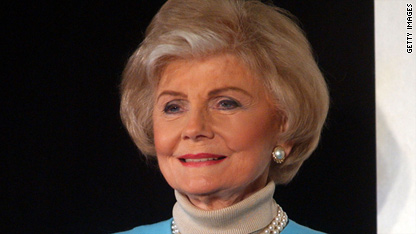 Barbara Billingsley, who wore a classy pearl necklace and dispensed pearls of wisdom as America's quintessential mom on "Leave it to Beaver," has died at age 94, a family spokeswoman said Saturday.
The actress passed away at 2 a.m. (5 a.m. ET) Saturday at her home in Santa Monica, California, after a long illness, spokeswoman Judy Twersky said. A private memorial is being planned.
"America's favorite mother is now gone. I feel very fortunate to have been her 'son,'" actor Tony Dow, who played Wally Cleaver, said. "We were wonderful friends and I will miss her very much. My deepest sympathies to her sons, Glenn and Drew, and her entire family."
Born December 22, 1915, in Los Angeles, Billingsley began her career as a model in New York City in 1936. She was under contract to MGM in 1945 before becoming a household name with the launch of "Leave it to Beaver" in 1957. The show was canceled in 1963.
Billingsley is survived by her two sons, Drew Billingsley of Granada Hills, California, and Glenn Billingsley of Phillips Ranch, California.