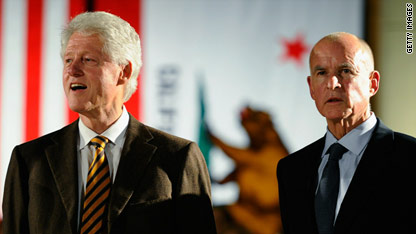 Talk about burying the hatchet. When former President Bill Clinton turned out to rally for California Democratic gubernatorial nominee Jerry Brown on Friday night, the former rivals hugged and made up. Really, they embraced.
The two have a bitter political history dating to 1992, when they ran against each other in the Democratic presidential primary.
Back then, Brown earned Clinton's animus by refusing to drop out until well after it was clear Clinton had locked up the nomination.
Speaking before a crowd on the campus of the University of California, Los Angeles, Brown heaped praise on the former president.
"Let me tell you about President Clinton. I don't need to say much. Not only was he great in office, but he has been great after he left office," Brown said. "He didn't retire to Palm Springs to play golf, he's out there doing stuff. He's helping people in Haiti. He's fighting AIDS."
He cheered the former president for "motivating ... the highest angles of our spirit."
Clinton returned the favor, telling the crowd of screaming students, "I've known Jerry Brown for almost 35 years. When we were governors together, we strongly supported to push for green energy ... he knew it was good economics when most people thought it was a fools errand."