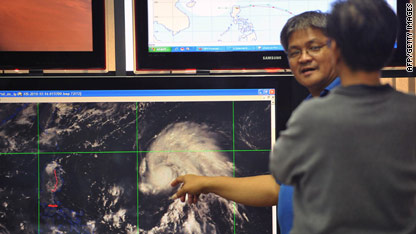 Emergency crews were on standby Sunday as the Philippines braced for a typhoon that could trigger flooding and landslides.
Typhoon Megi, also known as Typhoon Juan, is expected to make landfall midday Monday at or near super-typhoon strength, with winds possibly in excess of 200 kph (124 mph), according to Mario Montejo, secretary of the Philippines' science and technology.
On Sunday, Megi carried sustained winds of about 269 kph as it headed toward the Philippines, CNN meteorologist Ivan Cabrera said.
"This is a monster storm," Cabrera said. "It continues to show signs of intensification."
As of 4 p.m. (4 a.m. ET) Sunday, the typhoon was about 390 kilometers east of Aparri, Cagayan, according to the state-run Philippines News Agency. It was moving west at about 22 kph.
Montejo said the government is alarmed by the speed and strength of the typhoon. He warned of potentially devastating effects the storm may wreak on the northern island of Luzon.
Residents in low-lying and coastal areas are advised to head for safer locations, and authorities are discussing the possibility of forced evacuations.