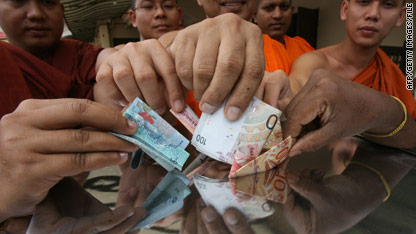 STOP what you're doing. This is about YOU. I know you read news, and I know you feel happy on the days when miners are freed in Chile, concerned when a kid is missing and sad when tragedy strikes.
But YOU also make news every day. Hopefully not the kind to appear on the FBI's Most Wanted List, but you change the world around you. And, through Thanksgiving, we are using what's new and what's buzzing to ask you to make it a better place. We have one task for you: Be A Hero.
Each day, we will offer one simple challenge that you can do to be a hero in your own life.
Here's your first challenge:
Donations to the country's 400 biggest charities plunged last year by 11 percent, the worst decline since the Chronicle of Philanthropy started ranking the fundraising organizations two decades ago.
Here's what you can do: By 3 p.m. EST today, contribute $5 to the cause of your choice. Check out CNN's list of ways to help, or pick another organization that is important to you.
Then tell us about it. You can post your response in the comments here, tweet what you did with the hashtag #BeAHero or send us an iReport about your experience. Which organization did you choose? Why?
Check back here in the evening, when we will post a roundup of the most standout daily heroics.