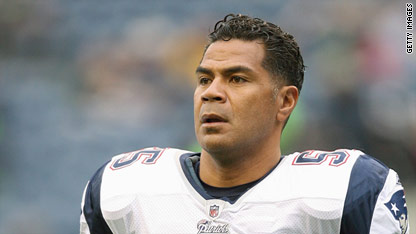 Former NFL linebacker Junior Seau was being treated at a hospital after he drove his white Cadillac SUV off a cliff Monday and landed on the beach at Carlsbad, California, police said.
He was taken to nearby Scripps La Jolla Hospital for the treatment, authorities said.
Law officers are investigating the cause of the accident, in which Seau was the vehicle's only occupant, police said. Carlsbad is 35 miles north of San Diego, where Seau played most of his career.
Drafted in the first round of the 1990 NFL draft out of the University of Southern California, Seau debuted with the San Diego Chargers, establishing his Hall of Fame credentials as a starring linebacker and Pro Bowl staple.
He left San Diego prior to the 2003 season to join the Miami Dolphins and spent parts of the last four seasons with the New England Patriots before retiring last January. Seau amassed 1,526 tackles, 56.5 sacks and 18 interceptions in his 20-year career.
Off the gridiron, Seau was the star of "Sports Jobs with Junior Seau," a reality show on the Versus network that followed him as he took on various behind-the-scenes occupations, from a baseball batboy to a bull fighter to a pro hockey equipment manager.
This story is developing. We'll bring you the latest information as soon as we get it.