Editor's Note: Learn about the top 10 CNN Heroes of 2010 and vote for the CNN Hero of the Year at CNNHeroes.com.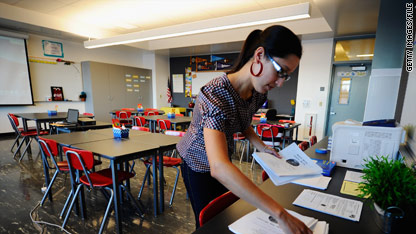 America's public schools are failing. That's the provocative premise of two new education documentaries "Waiting for Superman" and "The Lottery." The films, which follow families who are frustrated with the public schools in their neighborhoods, have sparked a debate about what education solutions are needed.
One of the chief complaints in the discussion is that the films ignore the good work that's happening in public schools.
You can help.
Here's your "Be a Hero" call to action for the day: Give a public shout out to a public school teacher who made a difference in your life. It could be your child's teacher, or an instructor you had as a child.
By 3 p.m. EST today post your response in the comments here, tweet your praise with the hashtag #BeAHero or send us an iReport about that special teacher. Which teacher did you choose? How did that person inspire, motivate or change you?
Check back here in the evening, when we will post a roundup of the most standout daily heroics.