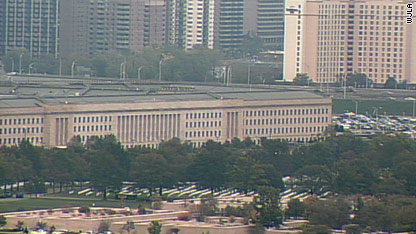 Shots were fired at the Pentagon early Tuesday, authorities said, striking a window of the building.
Pentagon police spokesman Chris Layman said it's not known who fired the shots. Pentagon police officers heard at least five shots around 4:50 a.m., Layman added.
According to another Pentagon Force Protection Agency spokesman, Terry Sutherland, two bullets hit the Pentagon on the south side of the building - one striking a window and the other hitting the building itself.  This is an unoccupied part of the building that is being renovated.
Sutherland said a fragment of one of the bullets is lodged in the window.
The windows, which are bullet-proof, did not shatter.
Officials will hold a news conference about the incident at 11:30 a.m. at the Pentagon.
Police are investigating.