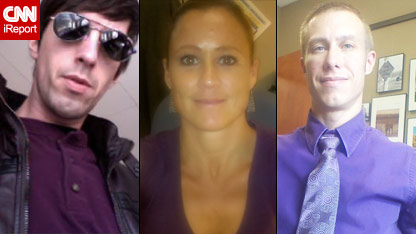 We've never seen quite so much purple.
For today's "Be A Hero" challenge, we invited you to take a stand against anti-gay harassment around the world.
Hundreds of you joined the Gay & Lesbian Alliance Against Defamation (GLAAD)'s Spirit Day by wearing purple, changing your Twitter profile or recording a message for the "It Gets Better" project.
The responses are still coming in through Twitter and iReport, but here are some of our favorites:
Kendall Binder, an instructor at Bowling Green State University in Ohio, wore a mauve shirt and a wine-colored jacket to his "Introduction to Popular Culture" class.
When he saw that none of his students was wearing purple, he decided to change his lecture.
"The topic of discussion for today was Heroes. Instead of talking about Superman or Harry Potter, I spent most of the class talking about Harvey Milk, the bullying issue and the 'It Gets Better' campaign," Binder said.
Frank Jaquez, an instructional designer in San Antonio, Texas, said, "It was awesome walking into the office to see various shades of purple in the cubicles around me." (See Frank's iReport)
Over in Belgium, an exchange student from Pennsylvania got her class to dress in purple and chronicled the experience on her Hope for Humanity blog.
"Almost my entire class and people in other classes were wearing something purplish! Even a math teacher came in representing 'spirit,' " Hope wrote. "People all over the world wish that violence and discrimination would end."
Today's call to action wasn't for everyone. Commenter just-me wondered why gay teenagers were singled out for the "Be a Hero" challenge.
"Lots of kids and teens get bullied, but there isn't any attention on them. We need help fighting bullying period. Other kids are killing themselves b/c of it. ... Not just gays," just-me wrote.
That commenter got an earful from readers like ground2, who responded: "There is emphasis on specifically gay teen suicides because it's always been an acceptable form of bullying in our society; and now the gay community is taking a stand to say 'enough is enough.' ALL teens have a hard enough time figuring out who they are; ALL teens need a hero. The gay community is just standing up and doing something about it. Bravo!"