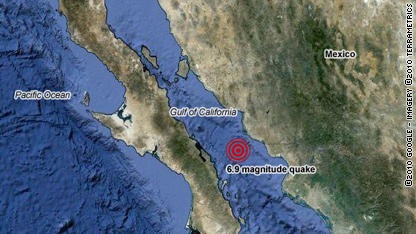 A 6.9-magnitude earthquake struck off Mexico's Pacific Coast, the U.S. Geological Survey reported Thursday.
The quake, which registered at a depth of 6.2 miles (10 kilometers), was centered between southern Baja California and the Mexican state of Sinaloa, about 60 miles from the cities of Guasave and Gabriel Leyva Solano in Sinaloa, the USGS said.
iReport: Are you there? Share your images, video
This story is developing. We'll bring you the latest information as soon as we get it.