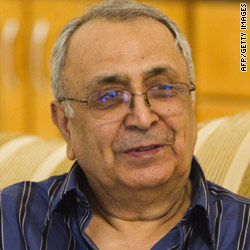 Reza Taghavi
The retired Iranian-American businessman from Los Angeles, California, traveled to Iran frequently to visit family and friends, so in April 2008, when he was asked by Imran Afar, an acquaintance, to take $200 to give to a cash-strapped friend in Tehran, Reza Taghavi thought nothing of it.
Taghavi, who was traveling to Tehran with his wife, did not know the person who was getting the money. Two weeks after he delivered it, Taghavi was detained by Iranian authorities, while the recipient of the cash was arrested on charges of association with the anti-regime group, Tondar.
Taghavi's lawyer said his release this week was the result of three trips to Iran, meetings with Iranian officials in New York and Europe, and about 300 e-mails with Iranian officials.
Attorney Pierre-Richard Prosper said Afar gave him information he shared with the Iranian government that proved that Taghavi was not part of Tondar. The group claimed responsibility for the April 12, 2008, bombing of a mosque in the Iranian city of Shiraz.
Taghavi, 71, came to the United States in 1979, before the Iranian Revolution. He taught himself English, and started a video game company in his garage, which grew into a successful corporation.
Naheed Nenshi
Although many thought a win was a long shot, Naheed Nenshi made history by becoming the first Muslim to head a major Canadian city. The 38-year-old business professor and son of immigrants defeated two better-funded candidates and delivered his victory speech in a basement donated by a supporter at the last second.
Nenshi survived a smear campaign and phone failure in the final days and hours before the victory was announced. His candidacy was called the "Purple Revolution," named for his campaign color and fueled by a broad demographic that included strong youth support. "
The mayoral race attracted the highest voter turnout in 30 years, according to "The Globe and Mail," and marks what many observers thought impossible: an academic, visible minority elected to lead Canada's most conservative city.
""The color of my skin, my faith, the neighbourhood I grew up in, my education, my experiences and ideas are all part of the crazy package that makes up Naheed and part of the crazy package that makes up Calgary," Nenshi told CTV.
Juan Williams
The NPR commentator lost his job over remarks he made Monday on Fox's "The O'Reilly Factor" about Muslims.
The comments arose during a discussion with host Bill O'Reilly over political correctness.
"Look, Bill, I'm not a bigot. You know the kind of books I've written about the civil rights movement in this country. But when I get on the plane, I got to tell you, if I see people who are in Muslim garb and I think, you know, they are identifying themselves first and foremost as Muslims, I get worried. I get nervous," he said.
NPR issued a statement late Wednesday about its decision to let Williams go.
"His remarks on 'The O'Reilly Factor' this past Monday were inconsistent with our editorial standards and practices, and undermined his credibility as a news analyst with NPR," it said.
Williams, who writes frequently about race, has been a Fox News contributor since 1997. An article on NPR.org says that Williams' appearances on Fox News programs had been a point of contention with NPR news executives. His role changed from staff correspondent to analyst after he took visible stances about public policy on television and in newspaper opinion pieces.