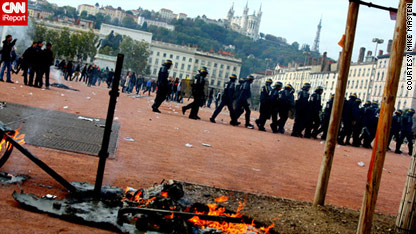 Ah, France. A nation known for its passion in food, wine, love…and protests.
Many French citizens have been rallying for days against the proposed increase of their retirement age from 60 to 62, leading to riots, school closings, and the shutdown of a major airport.
What's interesting is how passionate people here in the U.S. are getting about the French protests. Strong opinions abound in the CNN.com comments, from users envying the French retirement age to saying the protesters should get back to work. And, of course, some commenters are using the story as an opportunity for some good old-fashioned France-bashing…
ntcz: "I am impressed; this has been going on for a few days and the French haven't surrendered yet?"
RandyF offered a clever reply: "The US would not exist if it were not for the support of the French during the Revolution. Why all the sour grapes about the French? Seems more like jealousy from the 50% of folks who are going to die before they reach 65 from stress, over eating and the general American lifestyle."
But seriously, RandyF's sentiments are echoed by many other contributors. Some feel like the U.S. should adopt a system more like France's, with a relatively low retirement age and increased vacation time.