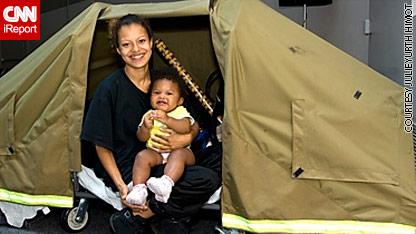 Editor's Note: Learn about the top 10 CNN Heroes of 2010 and vote for the CNN Hero of the Year at CNNHeroes.com.
Today's "Be A Hero" challenge comes from a story by CNN's Christopher Dawson on 'out-of-the-box' shelter solutions for the homeless.
As Dawson writes, when the weather turns cold, there are always pleas from shelters for blankets and warm clothes to help homeless people.
But some iReporters have come up with less predictable ways to help the homeless.
Tina Hovsepian devised an origami-style shelter out of cardboard that can be easily folded and carried. Another group in California, Everyone Deserves a Roof, has come up with a four-wheel pushcart that transforms into a one-person tent at night.
Have you helped make a positive change in the lives of those who need shelter? Share your story about how you can be a hero for the homeless in the comments below, Tweet about it with the hashtag #BeAHero or submit an iReport to CNN's Impact Your World.