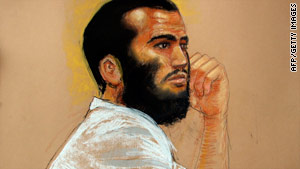 Guantanamo Bay detainee Omar Khadr pleaded guilty to all charges against him Monday, a Canadian diplomat said, in the first military commission trial there since Barack Obama became president.
Khadr pleaded guilty to the five terrorism charges he was facing, Catherine Loubier, spokeswoman for the Canadian Foreign Ministry, told CNN.
She declined to make further comment.
"This matter is between Mr. Khadr and the U.S. government and we will not have further comment on this today," she said.
Khadr was 15 when he allegedly threw a grenade during a 2002 firefight in Afghanistan that resulted in the death of Army Sgt. 1st Class Christopher Speer.  Khadr could have faced a maximum life sentence.
A military commission began in August but was stopped in the first week due to the illness of Khadr's military lawyer. It's the first such commission conducted during the Obama administration.
- CNN's Jeanne Meserve contributed to this report.
Clinton involved as US, Canada discuss Guantanamo detainee plea deal