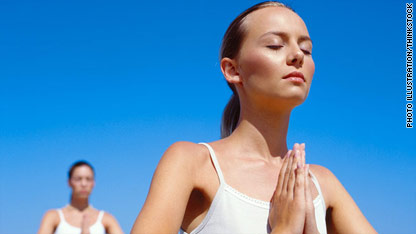 Editor's Note: Learn about the top 10 CNN Heroes of 2010 and vote for the CNN Hero of the Year at CNNHeroes.com.
Could meditation make us nicer?
Researchers at Emory University have been studying how an ancient Tibetan Buddhist meditation practice may help reduce stress, improve the immune system's response to stress, and even make us more compassionate. Preliminary results of the study were presented to the Dalai Lama at the Compassion Meditation Conference last week.
The Chart and Belief blogs are focusing on various aspects of meditation this week, starting with a primer on how to do it.
Today's "Be A Hero" challenge is simple:
Wherever you are, sometime today, take five minutes to focus on your breathing.Even if you're not in a quiet place, try not to think about anything except your breath for as many breaths as you can. You don't have to change  your breathing - just be aware of how it feels.
Let us know how it went in the comments below, on Twitter using the hashtag #BeAHero, or send us an iReport. For those of you who have been meditating for a long time, we'd love to hear if you have experienced long-term benefits.