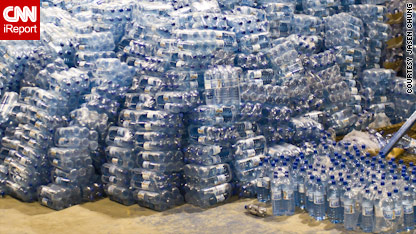 Editor's Note: Learn about the top 10 CNN Heroes of 2010 and vote for the CNN Hero of the Year at CNNHeroes.com.
An outbreak of cholera in Haiti has killed more than 250 people and sickened thousands.
The culprit: Contaminated drinking water.
Worldwide, the water crisis is huge. Nearly a billion people lack access to safe drinking water. That's one in eight of us.
You're probably not one of them. Be thankful, and for today's "Be A Hero" challenge, do something today to protect the resource for yourself and others:
1. Get informed about the work being done to provide clean water to people around the world. Watch this piece about 2009 CNN Hero Doc Hendley's work to provide clean water to Haitians through his organization Wine to Water. And this video about actor Matt Damon's visit to a hand dug well to see the daily struggle to find water in Ethiopia. (Damon is co-founder of Water.org, a U.S.-based nonprofit providing safe drinking water and sanitation to people in developing countries.) '
2. Do one thing to conserve water today. Turn the water off when you brush your teeth tonight. Take a shorter shower, and while you're doing that, place a bucket in the shower to catch excess water and use it to water the plants later.
Then tell us about it, either in the comments below, on iReport or on Twitter using the hashtag #BeAHero.