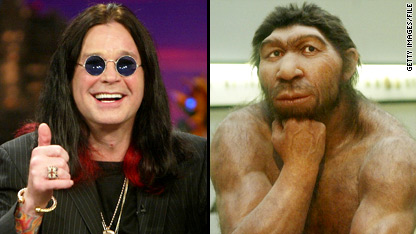 In July, rocker Ozzy Osbourne became one of few to submit his blood to have his full genome sequenced and analyzed.
The results are in, and it turns out his genome reveals some Neanderthal lineage, according to Scientific American.
Osbourne and his wife, Sharon, are expected to discuss the testing and its results Friday at the TEDMED 2010 scientific conference in San Diego, California.
In a Sunday Times of London column (registration required), the former Black Sabbath front man said he was reluctant to submitting to the test at first. He eventually gave in to his curiosity over how he had managed to survive years of hard living and substance abuse.
"Given the swimming pools of booze I've guzzled over the years—not to mention all of the cocaine, morphine, sleeping pills, cough syrup, LSD, Rohypnol... there's really no plausible medical reason why I should still be alive," he wrote.
"Maybe my DNA could say why."