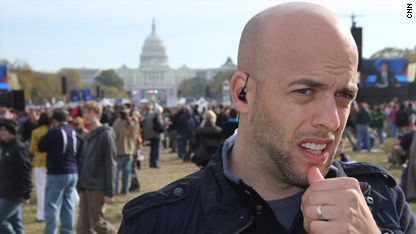 Okay, there's no way to write this article without name dropping. To cut to the chase, I know Jon Stewart and Stephen Colbert, and you don't.
I used to work for The Daily Show and the Colbert Report as the audience warm up act.  Not a bad day job.
But knowing the hosts didn't mean I got to parade on stage at Saturday's "Rally for Sanity and/or Fear." I was in the audience with the thousands of fans, reporting on the events for CNN.
But the audience was where the real spectacle unfolded this weekend.
In a lot of ways, the people congregating on the Mall looked just like the people I used to perform for at "The Daily Show" and "The Colbert Report".  Black, white, Hispanic, old,  young - every race, every ethnicity, and every age group was represented in the sea of fans.