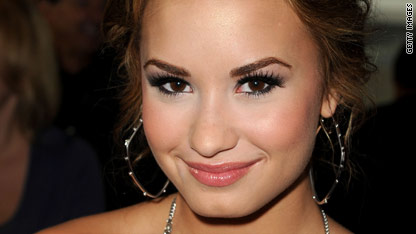 There's no official word, but teen pop star Demi Lovato apparently has deleted her Twitter account, according to Twitter traffic and sites including the "ultimate fan site" disneydreaming.com.
Searching for Lovato's tag @ddlovato yields a message from Twitter saying the page doesn't exist. The consensus of her fans on Twitter is that her account was hacked.
The celebrity website thefablife.com reported that Lovato, the 18-year-old star of Disney's "Camp Rock," had sent out a joke tweet saying she was engaged. She included a photo of a kneeling fan offering her a ring after her recent concert Thursday in Bogota, Colombia.
Lovato immediately sent out a second tweet to let everyone know that she was joking, the site reported.
Lovato is touring with the Jonas Brothers and is due to perform Saturday in Lima, Peru, and Monday in Quito, Ecuador, according to her MySpace page.
On her Facebook page, fans are demanding to know why she deleted her Twitter account. The hashtag #demicomeback was the No. 3 trend on Twitter at noon ET.