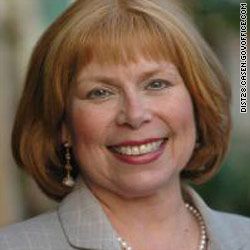 Democrat Jenny Oropeza won re-election as a state senator in California, but the implications of her victory Tuesday won't be known for some time.
Oropeza, 53, died two weeks before the election from a blood clot after battling cancer. But the incumbent remained on the ballot, winning by a decent margin - 58 percent to 36 percent over Republican John Stammreich.
Democrats continued to ask voters to check Oropeza's name on the ballot after her death through mailers. Some Republicans filed a complaint that the mailer was an attempt to "illegally influence" voters.
The Democratic mailer suggested that Republicans were trying to capitalize on the situation.
"The Republicans are trying to take unfair advantage of Jenny's tragedy," said the mailer without mentioning Oropeza's death. "They suggest that voting for Jenny will only result in a costly Special Election. I am asking you to vote for Jenny Oropeza. If a Special Election is called in a few months, you'll have the chance to thoughtfully elect your Senator for a new four-year term."
CNN affiliate KTLA-TV in Los Angeles reports that Oropeza's name remained on the ballot because she died so close to the election.
So why encourage people to vote for her? Democrats likely hoped that at least they would get the chance to nominate a new Democratic candidate. And that's likely what will happen, KTLA reports, saying Oropeza's seat will be declared vacant, and a special election will be called in December.

At the time of this posting, CNN had not been able to reach the California Democratic Party for comment.
It's not the first time a deceased candidate has won an election against an opponent. The late Missouri Gov. Mel Carnahan collected enough votes to beat Republican incumbent John Ashcroft for his U.S. Senate in 2000.
The popular governor died in a plane crash on October 16, 2000. By that time, it was too late to remove Carnahan's name from the ballot. His wife, Jean Carnahan, was appointed to his seat and served two years before losing in a special election.