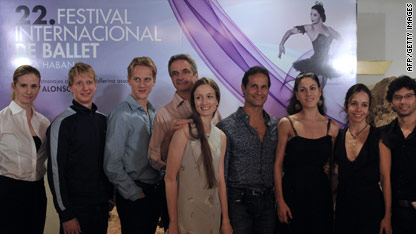 The last time the American Ballet Theatre performed in Cuba, Fidel Castro had been in power little more than a year and the United States had just begun covert operations aimed at taking down the burgeoning communist government.
Fifty years later, the New York-based company took to the stage Wednesday night in the Cuban capital's Karl Marx theater as part of the 22nd Havana International Ballet Festival.
The festival, which runs through November 7, will feature four performances by members of the company, including Cuban-born dancers José Manuel Carreño and Xiomara Reyes.
Individual ABT dancers have performed in Cuba in the past, but this year's tour marks the first time the company has performed there as a whole since its 20th Anniversary tour in 1960.
"In addition to the 5,000 attendees in the auditorium, the performance was broadcast live on Cuban national television. The energy was high and I would attribute that to the sheer size of the audience we performed for tonight," ABT dancer Eric Tamm wrote Wednesday on the company's site.
The festival honors iconic Cuban dancer Alicia Alonso, director of the National Ballet of Cuba and former ABT ballerina, on her 90th birthday. Alonso personally invited ABT to participate in the festival, in what is regarded as the latest attempt at cultural diplomacy between the Cold War enemies.
In honor of Alonso, the company performed Theme and Variations, a ballet created by legendary choreographer George Balanchine for ABT in 1947 with Alonso and Igor Youskevitch originating the lead roles, the company said.
"It's so beautiful to see that we all speak the same language when we are on stage," Alonso said, according to ABC News.
In recent years, cultural exchanges between the United States and Cuba have been among the most meaningful gestures between the two countries. In April 2009, the United States announced the lifting of restrictions on family travel and remittances to Cuba, but U.S. citizens still cannot travel to the Caribbean island nation without permission from the State Department.
Earlier this year, jazz musician Wynton Marsalis brought his orchestra to Cuba, and last week, Cuban pianist Chucho Valdés performed in New York.
"Travel is not easy between America and Cuba, but we got our licences relatively quickly so there was clearly a willingness to make it happen on our government's part," said Kevin McKenzie, ABT's artistic director, according to the British newspaper the Guardian.
The tour has also afforded the company the opportunity to experience life as performers outside their element.
"Within a five-hour period at the Karl Marx Theater, we experienced three electrical blackouts. We had been warned of this, but had yet to experience any problems. Thankfully, the theater was fully prepared for this to happen and was able to restore the lights very quickly," Tamm wrote Wednesday. "I guess this is part of the charm of performing in an old theater!"