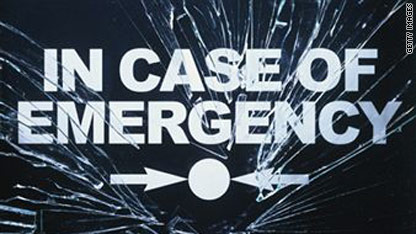 Editor's Note: Learn about the top 10 CNN Heroes of 2010 and vote for the CNN Hero of the Year at CNNHeroes.com.
[Updated, 4:40 p.m.] Thanks to everyone who participated in today's "Be A Hero" challenge to ICE your phone. A special shout-out to commenter Summaiyah, who told us, "I had never even heard of the ICE strategy, but just added it onto my phone. I've always just added 'HOME' to my contacts, but this idea sounds a lot better."
We were also happy to hear from a bunch of folks who ICE'd their phone a long time ago - including CNN iReport Facebook fan Diane Kukal-Arnold, who wrote:
"I learned about the ICE, added it to my phone, and now my kids have it on theirs too, also told all my Facebook friends about it too! We laugh that my husband is 'ICE Brian,' or when we're teasing him about his title, it's 'Ice Ice Baby.'"
Check back tomorrow for the next "Be A Hero" challenge.
[Original post, 11:08 a.m.] If you were lying unconscious somewhere, would rescuers know who you were? Would they know how to notify your loved ones?
In an emergency, your cell phone can be a lifeline, CNN Senior Medical Correspondent Elizabeth Cohen writes today.
So today we're challenging you to "Be A Hero" for your safety:
Put your emergency contact into your cell phone under the name "ICE" (In Case of Emergency), the acronym that EMTs know to look for. Example: ICE-William or ICE-Dad.
If your phone is password protected, put the information on a piece of paper and put it in your wallet. ICE4SAFETY.com has a free downloadable card you can fill out with your emergency information. Make sure your ICE contact is someone who knows your medical history.
You can also choose an app that puts the information (or an icon leading to it) on the front screen of your phone so it's easy to find. Jared makes one for your BlackBerry and Polka makes one that goes on the front screen of your iPhone, which will work even if your phone is locked.
Let us know what you did in the comments below, or on iReport. We'd also love to hear about any other 'In Case of Emergency' apps you're using, or if a cell phone ever saved your life or the life of someone you know.