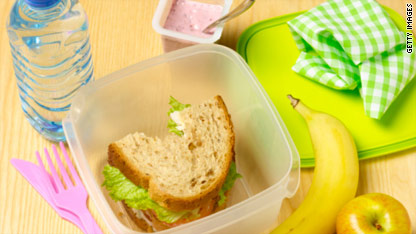 Editor's Note: Learn about the top 10 CNN Heroes of 2010 and vote for the CNN Hero of the Year at CNNHeroes.com.
[Updated 11/8/10 at 12:10 p.m. ET ]
In response to yesterday's challenge to "Be a hero for healthy kids," we got tons of great suggestions for healthy kids' snacks and meals. Thanks to everyone who participated!
Here are a few highlights:
-Dehydrated apples, bananas and tomatoes. "My baby granddaughter is almost two years old and she loves the fruit. It's about the only way she will eat fruit right now, besides baby food." –iReporter KCRep
-Red, White & Green Pizza Pinwheels: Whole wheat tortillas, marinara sauce, low-fat mozzarella cheese, fresh spinach. "Layer the sauce, spinach and mozzarella onto the tortilla, roll tightly and slice into toddler-size pinwheels." –Livsmum07
-Chicken pitas: Shredded chicken, sliced cherry tomatos, spinach leaves, sliced sweet peppers, bean sprouts, and a chipotle hummus all stuffed into a pita pocket. –KJ
-Fruit and veggie smoothies: "Bananas, strawberries and blueberries as a base, with Greek yogurt and then some carrots and spinach. The key is to balance the fruits with the veggies. I've never had a complaint about the smoothie yet." –Katyna
-Peanut butter happy face sandwiches: "A tablespoon of peanut butter spread on whole grain, then add a face: apple slices lips and ears, banana slices eyes with raisin pupils and eyebrows, a baby carrot halved for a nose. Let the kids make their own combos, just provide the face parts as above. Other good face parts are orange slices, sliced pears, shredded cabbage or coconut (nice hair), celery sticks, nuts, craisins, dried cherries, apricots, figs, prunes. Just tell them to choose carefully that they have to eat whatever they pick!" –Cindy Lou
-Jazzed up popcorn: 1 bag unflavored popcorn, 1 cup trail mix, 1/2 cup coconut, salt to taste – Jill
-"My kids could live happily with quinoa in every meal. I make it in veggie or chicken broth seasoned with garlic & cumin. Add garbanzo, tomatoes, bell pepper or eggplant for variety." –@Denicalifornia
For more ideas, check out these healthy-food sites from our readers:
http://www.healthykiddosnacks.com
http://healthnutfoodie.blogspot.com
[Original post] Last week came news that San Francisco officials will ban toys from McDonald's Happy Meals – and other restaurant kids meals – unless they improve the meals' nutrition with fruits and vegetables by December 2011.
The decision by the San Francisco Board of Supervisors is getting plenty of push-back from people who say the government shouldn't force choices on them, or that parents, not fast-food chains, are to blame for fat children.
Let's assume that parents want to do the right thing and just need a little help sometimes.
Today's challenge is for the parents out there:
"Be a hero" for kids' nutrition and share your favorite easy-to-make healthy kids' snack or meal. It can homemade, store-bought or found on a restaurant menu.
Share your suggestions in the comments below, or tell us about it on iReport. We'll showcase some of the best ideas tomorrow. And if you'd like to sound off on the McDonald's story, head on over here.