Obama in India
President Obama and first lady Michelle Obama are in New Delhi on the third and final day of their visit to India.
The president has already laid a wreath at a memorial for Indian leader Mahatma Gandhi and delivered a speech to Parliament.
The day will end with a state dinner with Indian President Pratibha Devisingh Patil.
The Obamas next will travel to Indonesia, then to the G-20 meeting in South Korea and APEC (Asia-Pacific Economic Cooperation) summit in Japan.
Elizabeth Smart trial resumes
The defense is to make its opening statement Monday in the Salt Lake City, Utah, trial of Brian David Mitchell, who is charged with kidnapping and unlawfully taking a minor across state lines for sex.
Mitchell, a self-proclaimed prophet of a church he created, is accused of kidnapping 14-year-old Elizabeth Smart from her bedroom in 2002 to make her his virgin bride.
Mitchell, 57, is using an insanity defense. If convicted, he could be sentenced to life in prison.
LEARN ABOUT MITCHELL AND THE TRIAL HERE.
Windows Phone 7 debuts
Windows Phone 7 goes on sale today, and Microsoft is holding its breath to see how its new, hyped-up smartphone software sells.
Microsoft knows it has a difficult hill to climb against entrenched smartphone platforms like the BlackBerry, the iPhone and Android. But Microsoft CEO Steve Ballmer believes it will "sell like crazy," arguing that Windows Phone 7 is refreshingly different and incorporates only the best aspects of its competition.
Microsoft is betting that heavy marketing will encourage developers to create plenty of cool apps for its new phone.
Microsoft's app marketplace currently has more than 1,000 apps. But that's paltry compared to the 100,000 on Google's Android marketplace and 250,000 on Apple's App Store.
LEARN MORE ABOUT WINDOWS PHONE 7 HERE.
Conan O'Brien returns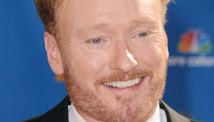 Comedian Conan O'Brien returns to late-night television Monday with a much-anticipated new show on TBS.
Actors Seth Rogen and Lea Michele will be guests on the first episode of "Conan," which airs Monday at 11 p.m. ET.
But the veteran host is keeping mum about a mystery guest - the winner of an online poll. A guest lineup posted on the new show's website says: "You clicked and we listened! Who will be the poll winner: The Pope? The Sultan Of Brunei? Nobel Prize in Chemistry winner Gerhard Ertl? WATCH AND FIND OUT!"
O'Brien has been off the air since January, when NBC gave his time slot back to Jay Leno after Leno's prime-time show failed. TBS, owned by CNN parent Turner Broadcasting, announced plans to bring O'Brien onboard in April.