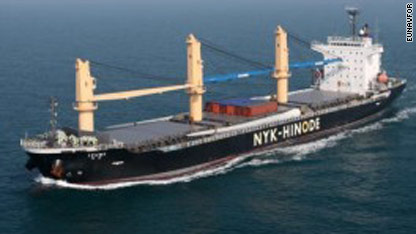 Somali pirates have used a Japanese-owned freighter they seized in October to stage an attack on a Spanish warship, the European Union's anti-piracy task force reports.
On Saturday night, pirates aboard the MV Izumi, a Panamanian-flagged vessel they captured on October 10, attacked the SPS Infanta Cristina, a Spanish corvette, as it escorted a ship chartered by the African Union's peacekeeping mission in Somalia, according to a statement from the European Union Naval Force public affairs office.
As the pirates attacked, the Infanta Cristina placed itself between the Izumi and the AU ship, the MV Petra 1, which was carrying peacekeepers, the statement said.
"The attack was disrupted, and the pirates fled the scene," the statement said.
No injuries or damage was reported.
The Spanish warship "used only miminal force" to defend itself, EUNAVFOR said, because it was believed the crew of the Izumi was being held hostage aboard the freighter. A EUNAVFOR release after the Izumi was seized said it had a crew of 20 Filipinos.
The Infanta Cristina and the Petra 1 continued to Mombasa, Kenya, after the incident, the statement said.