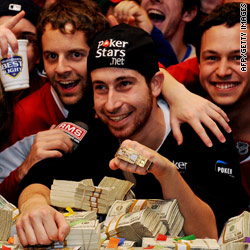 *** WSOP SPOILER ALERT***
Jonathan Duhamel
The 23-year-old from Boucherville, Quebec, won the 43rd World Series of Poker on Monday, raking in more than $8.9 million in prize money.
"It's a dream come true right now. It's like the most beautiful day of my life," he said, according to a report from Canada's CTV.
Duhamel outlasted 7,318 other entrants, the second-largest ever field in the tournament, which began July 5. Duhamel paid a $10,000 buy-in to get into the field.
Floridian John Racener finished second, collecting $5,545,955 in prize money.
Duhamel is the first Canadian to win the championship. The former college finance major learned poker by reading books and playing online, sometimes betting as little as 2 cents a hand, according to a CTV report. Monday's victory was his biggest by far.
"I love playing poker so much, so I mean I'm going to be playing all those big tournaments and try to make other big scores," CTV quoted him as saying. "I'll be there next year in the World Series and try to do my best again."
The final was played at the Penn and Teller Theater at the Rio in Las Vegas, Nevada. It can be seen on ESPN tonight at 10 p.m. ET.
Florida Gov. Charlie Crist
The lame-duck governor has only eight weeks left in office, but he may try to make a bit of rock 'n' roll history during that time.
A spokesman for Crist tells Florida Today that the governor is considering granting a posthumous pardon to legendary Doors singer Jim Morrison for an indecent exposure conviction the rocker got after a Miami concert in 1969.
"The Jim Morrison pardon is an issue he has been asked about repeatedly and … it is something he is certainly willing to look at," spokesman Sterling Ivey said.
Morrison, a native of Melbourne, Florida, and a Florida State University alumnus, never served time for the conviction. He died in France in 1971.
Crist estranged Republicans in Florida when he broke with the party to run for the U.S. Senate as an independent in this month's election.
Any actions he takes in the final weeks of his term face overrides in the GOP-dominated Legislature, according to Florida Today.
Azmi Bishara
The former member of Israel's parliament, the Knesset, may lose his pension if a bill being considered by his former legislative colleagues becomes law.
Bishara faced trial in Israel in 2007 after police said he was suspected of passing information to Hezbollah in 2006. But he fled Israel before the trial could begin, according to a report in Haaretz.
Because he has not been tried, he's still presumed innocent under Israeli law and therefore entitled to the $53,200 pension benefit due when he resigned his seat in the Knesset, Israeli courts ruled.
The bill now before the Knesset would deny the benefit to members who do not appear at criminal trials. It passed its first reading before the Knesset House Committee. It must pass second and third readings before becoming law.