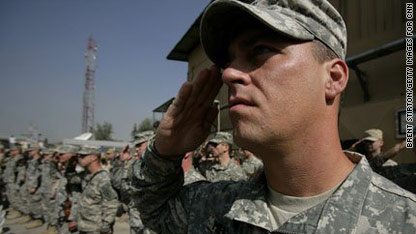 Editor's Note: Learn about the top 10 CNN Heroes of 2010 and vote for the CNN Hero of the Year at CNNHeroes.com.
On Thursday, Americans pay tribute to the veterans who have served during war or peacetime and continue to do so.
CNN has been offering daily challenges we can each do to make the world better. For the next one, we invite you to "Be A Hero" for our military heroes.
Salute a family member, friend or neighbor who is currently in the military or has served, by doing one or more of the following:
-Thank them for their service in person
-Send them an email
-Post a message on their Facebook page
-Send a Tweet with the hashtag #BeAHero.
We'd love to hear what you did in the comments below, or on iReport.