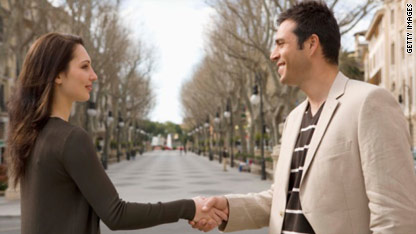 Editor's Note: Learn about the top 10 CNN Heroes of 2010 and vote for the CNN Hero of the Year at CNNHeroes.com.
A few hours ago, iReporter Miguel Rezende in Lisbon, Portugal, sent us a touching story today about a local man who spent hours each day on one of the biggest avenues in Lisbon, smiling and waving goodbye to people passing by on foot or by car.
In the beginning, people thought he was "not lucid," Rezende said. But they came to know him as just a shy, lonely man, looking for companionship. (You can see him in action and talking about his life in a short documentary that local film students made a few years ago, with English subtitles.)
Jo√£o Manuel Serra, or 'ÄúSenhor do Adeus'ÄĚ as he was known, died on Wednesday at the age of 80, after at least 15 years of waving to people. The local evening news did a story about him, and in his tribute, on Thursday, hundreds of fans went to the spot where he usually stood, Rezende said. They also created a Facebook page for him that has nearly 13,000 fans.
"It was very emotional to see so many people missing him," Rezende said. "This person made a lot of people happy when he was there."
We've been offering tiny "Be A Hero" challenges that you can do to make the world a little better.
For the next one, take a page from Mr. Serra's life and reach out to a stranger. Wave, smile, say hello, or strike up a conversation with someone you've never met. Feel free to tell us about it in the comments below, or on iReport.
"Maybe if we would do that more often, we would surprise ourselves to find that the stranger is actually a very nice person," Rezende said.