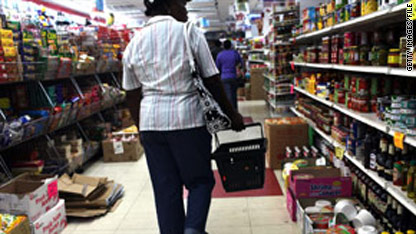 Editor's Note: Learn about the top 10 CNN Heroes of 2010 and vote for the CNN Hero of the Year at CNNHeroes.com.
U.S. hunger remains at its highest levels in 15 years.
According to a Department of Agriculture report released Monday, 17.4 million families - nearly 15 percent of U.S. households - lacked money to feed one or more of their family members in 2009.
But it's easy to feed the hungry without spending a lot of money.
We've been offering tiny things that you can do to make the world a little better. For the next "Be A Hero" challenge, we're starting a virtual food drive on iReport.
1. Scour your cabinets for canned goods or other non-perishables you aren't planning to eat.
2. When you go grocery shopping, drop a few extra pantry staples in your cart. It doesn't have to cost anything if you pick buy one, get one free items.
Many supermarkets have drop-off points for food bank donations during this season. If you can't find one, visit Feeding America to find a food bank near you.
Before you drop off your donation, snap a photo and upload it to iReport with your story of how you helped fight hunger this season.