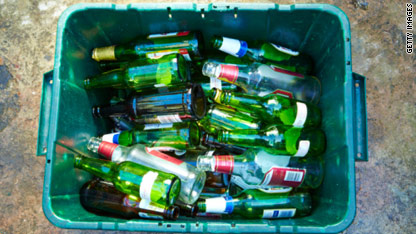 Editor's Note: Watch "CNN Heroes: An All-Star Tribute" Thanksgiving night at 8 p.m.ET/5 p.m. PT.

[Updated 11/18/10 at 12:20 p.m. ET ]

We got dozens of great responses to last night's "Going green" challenge.
According to the U.S. Environmental Protection Agency's ENERGY STAR program, the biggest contributors to global warming are power plants, cars, trucks, airplanes, buildings and homes.
Clearly, you know what it takes to save water and energy in your home: Fixing leaks; taking short showers instead of baths; washing only full loads of dishes and clothes (and using cold water); turning off the tap while brushing your teeth; using power strips for electronics and turning them off when not in use; and replacing incandescent bulbs with compact fluorescent light bulbs or LEDs, among other things.
The question is: How many of these changes have you made?
– Darkharp says he makes 85 percent of his own power using solar panels; uses renewable wood to heat his home, and telecommutes, thereby reducing gas consumption and pollution from his car.
– Graeme Jones, 49, a computer analyst in Marietta, Georgia, recycles all his plastic, cardboard, glass, junk mail, tin food cans, aluminum cans and styrofoam. The bulk of his mail goes into a paper shredder and is recycled with yard waste into compost for his garden. He also diverts the water from his washer, shower, and AC to water his trees in the dry months. He said saving money was the primary reason for the changes, but also, "I don't like things going to the landfill that can be used again."
– Jeff Lytle, a software company owner in Oklahoma City, Oklahoma, says his family doesn't want to use any more oil than can what be produced domestically. So he and his wife are building their "green dream home" complete with concrete exterior walls, ENERGY STAR appliances, geothermal heating and air conditioning, reclaimed hardwood floors, countertops made from recycled glass and concrete and other features. He says construction costs are comparable to less-energy-efficient homes in the neighborhood. He is chronicling the process on his blog green-dreamhome.com.
"I don't think the government's ever going to solve the energy problem. I think it's up to individuals to do that," he said.
[Original post] On CNN's American Morning yesterday, Jason Carroll looked at how one American family is going "green" and discussed easy tips anyone can do to make your home more eco-friendly - and help your wallet at the same time.
We've been giving you small ways to "Be A Hero" in your own life. For your next challenge, we want to see how much you know about going green, with a few questions from the U.S. Environmental Protection Agency's ENERGY STAR program:
1. Name three of the biggest contributors to global warming.
2. List three ways you can save water in your home.
3. List three ways to save energy in the home.
Post your responses in the comments below, and we'll be back with answers tomorrow.
And if you've taken steps to make your home more eco-friendly, we want to hear about it. Head over to iReport and show us or tell us about the changes you've made to your home.