Tragedy added to tragedy Tuesday when an Ohio couple died in an accident on their way to help make funeral arrangements for their three grandchildren.
Marc and Misty Royce of Circleville were killed in a crash on a snowy road on their way to help Marc Royce's daughter, Kacey Stacey, plan funerals for her three children, who died in a mobile home fire over the weekend, CNN affiliate WBNS-TV reported.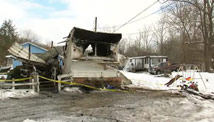 In the car accident, Misty Royce's two children from a previous marriage and a 6-month-old baby they shared were injured.  They were  treated at a hospital, as were the occupants of a second vehicle in the crash, WBNS reported.
The children who died in the fire in Wheelersburg were Dwayne Charles Stacey, 3, Emily Rose Stacey, 2, and Alexis Stacey, 11 months.