[Updated at 11:27 a.m. ET] Two firefighters were killed and 14 others were injured after a building that was on fire collapsed, a Chicago Fire Department spokesman told CNN.
The two firefighters died from injuries they suffered while fighting the blaze.
Four firefighters remain in serious condition, spokesman Larry Langford said.
Were you there? Share your images with iReport
[Updated at 10:22 a.m. ET] All firefighters are accounted for after a roof collapse at a fire on East 75th near Stony Island on Chicago's southside this morning, Larry Langford with Chicago Fire told CNN.
Several firefighters were trapped in the collapse. A dozen firefighters have been transported to local hospitals with injuries ranging from minor to serious. There are no confirmed fatalities at this point.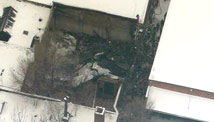 [Updated at 9:29 a.m. ET] Firefighters are using everything at their disposal to try to reach two colleagues that remain trapped under the rubble of a collapsed building in Chicago.
Video from the scene shows firefighters literally pulling brick-by-brick from the ground, filling white buckets with debris, lifting material on metal structures and trying to sift through as much material as they can while the snow continues to fall in Chicago.
[Updated at 9:10 a.m. ET] Dozens of firefighters are at the scene of a vacant building collapse searching through the lot's now-completely demolished structure for two of their colleagues who remain trapped inside.
Four men had become trapped inside the rubble while fighting the fire when a wall collapsed, but two of the were rescued.
Video from the scene shows crews battling snow, spraying hydrants and lifting planks of wood in teams as they dig through the rubble.
[Posted at 9:04 a.m. ET] Four firefighters became trapped inside a building this morning on the Chicago's south side after a wall collapsed and closed in on them, CNN affiliate WGN reported. At least two firefighters were rescued but two others were reported still inside, WGN said.
The fire broke out at 6:54 a.m. at a vacant warehouse CNN affiliate WLS reported. WGN reported the crew was having trouble with the hydrant, which may have been frozen. Ten minutes later a "mayday call" came in, signaling that firefighters were trapped.
Video from the scene showed dozens of firefighters frantically digging through charred rubble and using axes to try to separate material inside the collapsed building. An aerial view of the street shows a large gaping hole where the building stood with dozens of firefighters inside.