[Update 11:58 a.m.] Rescuers were swiftly bringing stranded skiers down from a broken-down chairlift at western Maine's Sugarloaf Mountain resort, CNN Newsource employee Robb Atkinson said.
"It's incredibly organized. They know what they're doing," Atkinson said while still suspended 30 to 40 feet above the ground. "They're moving incredibly fast."
The accident occurred on the resort's Spillway East slope, which runs all the way to the top of the mountain, Maureen Atkinson said.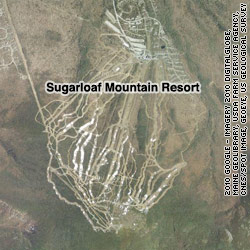 [Update 11:40 a.m.] Five stranded skiers have been evacuated from the chairlift that broke down Tuesday at Sugarloaf Mountain, Maine, CNN Newsource employee Robb Atkinson said.
Officials with the ski resort said it would take 60 to 90 minutes to rescue all the trapped skiers.
Are you there? Send your pictures and videos to iReport.
[Original post] A gust of wind derailed a chairlift cable Tuesday morning, according to a resort spokesman,  sending skiers tumbling.
At least three people were injured, said CNN Newsource employee Robb Akinson, who was among about 100 skiers stranded on the chairlift 30 to 40 feet off the ground after the accident.
"We heard screams from skiers down below that skiers were off the lift, and we've been trapped ever since," he told CNN's Tony Harris.
Skiers would have to climb down one at a time using harnesses and ropes, Atkinson said.
"We've got a whole lot of people throwing ropes over the lift right now," Atkinson's wife, Maureen, said.
Robb Atkinson said the temperature was about 8 degrees with a 20 mph to 30 mph wind. The resort received 20-22 inches of fresh snow with the weekend blizzard, he said.
A spokesman for the ski resort said the lift cable derailed between 10:30 and 10:45 a.m., and all the chairs on that cable fell to the ground.
See CNN's full coverage of the accident