Is the childhood obesity epidemic in the U.S. a threat to national security?
"Oh, yes," said Maj. Gen. Paul Monroe, retired from the U.S. Army.
CNN Radio's Jim Roope talked with Monroe and an Army recruiter to examine the issue. Monroe, with the group Mission: Readiness, released a study saying the obesity rate among children and teens - one in three according to the CDC - is a threat.
"The military found that one in four recruits are not eligible because of weight," he said.
"And not everyone wants to be in the military, and when you reduce it by 25 percent, it's a real problem," Monroe said.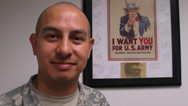 Sgt. 1st Class Jason Montano, an active-duty recruiter with the Army, says he wouldn't go as far as calling childhood obesity a threat to national security, but it is a challenge.
"As recruiters trying to recruit America's force, we have a lot of our kids this day and age that are obese," Montano said.
He says the military does have a program to get obese and overweight kids Army-ready.
Click the audio link to hear the complete story: