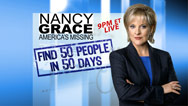 Editor's note: HLN is airing a special "Nancy Grace: America's Missing" with the goal of trying to find 50 people over the next 50 days. Nancy Grace will take a look at several cases across the country in hopes of  helping to solve them. This is the first case.
Ten-year-old Lindsey Baum was at her friend's home six blocks in away in McCleary, Washington, on June 26, 2009, when her friend's mom thought she should begin the walk home before it got too dark.
She was last seen at 9:15 p.m. in the neighborhood and never made it home.
Baum's story will be the first installment featured Monday night on "Nancy Grace: America's Missing" live at 9 p.m. ET only on HLN.
For more information on Baum, her description, and information to contact authorities, visit Nancy Grace's blog.
iReport: Your stories of missing loved ones
Other resources:
FindLindseyBaum.com
CUE Missing Persons: The hunt for Lindsey Baum
CNN affiliate KATU's coverage of Lindsey Baum case:
Police focusing on person of interest in missing girl case
More surveillance video released in search for Lindsey Baum
Search still active for Lindsey Baum
Lindsey Baum's disappearance still a mystery

Watch Nancy Grace Monday through Sunday starting at 8 p.m. ET on HLN. For the latest from Nancy Grace click here.