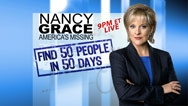 Editor's note: HLN is airing a special "Nancy Grace: America's Missing" with the goal of trying to find 50 people over the next 50 days.
Nancy Grace will take a look at several cases around the nation in hopes of  helping to solve them. This was the third case.
[Updated Thursday at 11:30 a.m.] Jennifer Kesse, 24, last spoke to her boyfriend at 10 p.m. on January 23, 2006 as she was getting ready for bed.
Police know that she left her condo apartment the next day at around 8 a.m., but never made it to work. She was reported missing by 3 p.m.
"It looked like she slept in her bed, she had two or three outfits laid out on her bed as if she was choosing an outfit to wear," her father Drew Kesse told Nancy Grace Wednesday night.  "The bathroom looked like someone got ready to work. The rest of the condo looked perfect. Honestly, it looked like a made came through."
For police, the biggest clue lies in a piece of surveillance video. It shows someone who appears to be a man dropping off Jennifer's black 4-door Chevy Malibu about a mile away from where she disappeared in Orlando, Florida.
About 5 years after her disappearance, police say they believe that person knows the most about what happened to Kesse.
For more information on Kesse, her description, and information to contact authorities, visit Nancy Grace's blog.
iReport: Your stories of missing loved ones
Other resources:
http://jenniferkesse.com/
America's Most Wanted: Jennifer Kesse
CNN affiliate WFTV's coverage of Jennifer Kesse case:
Reward Raised To $1M In Kesse Case
FBI To Investigate Kesse Disappearance
Man Seen Parking Kesse's Car At Apartment Called Suspect
Watch Nancy Grace Monday through Sunday starting at 8 p.m. ET on HLN. For the latest from Nancy Grace click here.