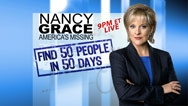 Editor's note: Nancy Grace's new show on HLN, "Nancy Grace: America's Missing," is dedicated to finding 50 people in 50 days. As part of the effort, which relies heavily on audience participation, CNN.com news blog "This Just In" will feature the stories of the missing.
This was the seventh case.
It's been two years since the disappearance of Adji Desir, but police have not given up hope to find the boy alive.
Police marked the second anniversary on January 10 by knocking on doors and distributing updated fliers with the then 6-year-old's smiling face. A large triangle image on the fliers highlights what police aim to do by building a triangle of trust between residents of the Immokalee village, Adji's parents and law enforcement. Did someone see something when the developmentally disabled boy vanished while playing outside his grandmother's home with friends?
Watch Nancy Grace Monday through Sunday starting at 8 p.m. ET on HLN. For the latest from Nancy Grace click here.