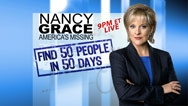 Editor's note: Nancy Grace's new show on HLN, "Nancy Grace: America's Missing," is dedicated to finding 50 people in 50 days. As part of the effort, which relies heavily on audience participation, CNN.com news blog "This Just In" will feature the stories of the missing.
This is the eighth case, and it will air on HLN at 9 p.m. ET.
The disappearance of Ray Gricar is a mystery that continues to haunt the town of Bellefonte, Pennsylvania.
Just eight months away from retirement as a 20-year prosecutor, Gricar vanished after taking a day off from work to take a scenic drive. When he was not heard from for 12 hours, Gricar's girlfriend reported him missing on April 15, 2005.  The next day, his red and white MINI Cooper was found in an antique mall parking lot - his cell phone still in the car, but his sunglasses and keys missing.
There have been many false sightings over the last five-plus years, but nothing to fully draw police to any one of the three theories they've had since day one of Ray's disappearance: Either he walked away from his life, met with foul play, or committed suicide.
Watch Nancy Grace Monday through Sunday starting at 8 p.m. ET on HLN. For the latest from Nancy Grace click here.