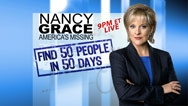 Editor's note: Nancy Grace's new show on HLN, "Nancy Grace: America's Missing," is dedicated to finding 50 people in 50 days. As part of the effort, which relies heavily on audience participation, CNN.com's news blog This Just In will feature the stories of the missing.
This is the 11th case, and it will air at 9 p.m. ET Monday on HLN.
For two years, police have been looking for Brittanee Drexel, a teenage girl who disappeared during a spring break trip to Myrtle Beach, South Carolina.
Drexel, of Rochester, New York, was last seen in Myrtle Beach on April 25, 2009, disappearing after going for a walk about 8 p.m. She was 17 at the time.
This past weekend, the second-largest search for Drexel was launched with the help of 200 trained volunteers from the Center for Missing Persons. Volunteers covered heavily wooded areas on foot and with the help of ATVs, horses and dogs.
Watch Nancy Grace Monday through Sunday starting at 8 p.m. ET on HLN. For the latest from Nancy Grace click here.