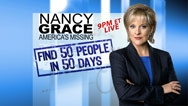 Editor's note: Nancy Grace's new show on HLN, "Nancy Grace: America's Missing," is dedicated to finding 50 people in 50 days. As part of the effort, which relies heavily on audience participation, CNN.com's news blog This Just In will feature the stories of the missing.
This was the 10th case, and it aired Friday night on HLN.
Phylicia Barnes, a 17-year-old honors student from Charlotte, North Carolina, disappeared in Baltimore, Maryland, on December 28 while visiting her sister. She told an acquaintance that she was hungry and might have left her sister's apartment to get something to eat. Barnes' coat and purse were gone, but her credit card was left behind.
Police are focusing on a dozen people who saw the teenager shortly before she vanished. No one has been identified as a suspect or person of interest in the case.
Watch Nancy Grace Monday through Sunday starting at 8 p.m. ET on HLN. For the latest from Nancy Grace click here.