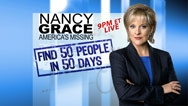 Editor's note: Nancy Grace's new show on HLN, "Nancy Grace: America's Missing," is dedicated to finding 50 people in 50 days. As part of the effort, which relies heavily on audience participation, CNN.com's news blog This Just In will feature the stories of the missing.
This is the 12th case, and it will air at 9 p.m. ET Tuesday on HLN.
How does a family of four simply vanish? Joseph McStay, his wife and two little boys have not been heard from since February 4, 2010.
On February 8, the family vehicle (a white Isuzu Trooper) was found in a parking lot in San Ysidro, California, on the Mexican border. The children's car seats were still in the car.
On February 15, McStay's brother asked police to conduct a welfare check at the family's home. When deputies entered the home they found two dogs home alone without care and it didn't appear as if the family left on a planned trip. Belongings that would have been essential for a vacation were left behind along with perishable items on the counter. It became clear to friends and family that something was amiss.
Almost a year later, the McStays are still missing.
Watch Nancy Grace Monday through Sunday starting at 8 p.m. ET on HLN. For the latest from Nancy Grace click here.