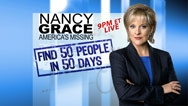 Editor's note: Nancy Grace's new show on HLN, "Nancy Grace: America's Missing," is dedicated to finding 50 people in 50 days. As part of the effort, which relies heavily on audience participation, CNN.com's news blog This Just In will feature the stories of the missing.
This is the 13th case, and it aired Wednesday night on HLN.
Alexandria "Ali" Lowitzer, 16, was last seen getting off a bus just three houses down from her Spring, Texas, home on April 26.
Shortly before that, she spoke to her mother about her plans to pick up her paycheck from a restaurant just a half-mile walk from the bus stop. Restaurant employees say Ali never made it there.
Police classified her as a runaway. There is no sign of foul play, but her parents feels that something terrible has happened to their daughter.
Watch Nancy Grace Monday through Sunday starting at 8 p.m. ET on HLN. For the latest from Nancy Grace click here.