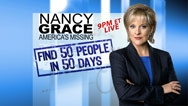 Editor's note: Nancy Grace's new show on HLN, "Nancy Grace: America's Missing," is dedicated to finding 50 people in 50 days. As part of the effort, which relies heavily on audience participation, CNN.com's news blog This Just In will feature the stories of the missing.
This is the 14th case, and it aired Thursday night on HLN.
Michaela Garecht was abducted in November 1988, when she was 9, in Hayward, California, according to a friend who was with her.
Michaela and her 9-year-old friend rode their scooters to a market on a Saturday morning to purchase candy and soda, Michaela's mother, Sharon Murch, has said.
When the girls left the store, they began to walk home, forgetting they had rode their scooters. They realized their mistake and went back to the store, but Michaela's scooter was missing.
She soon found it.
"Michaela spotted it in a parking lot next to a car and went to get it, and when she bent over to pick up the scooter, a man jumped out of the car, grabbed her from behind, threw her into the car and took off with her," Murch said in 2009.
Watch Nancy Grace Monday through Sunday starting at 8 p.m. ET on HLN. For the latest from Nancy Grace click here.