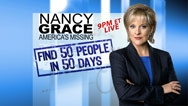 Editor's note: Nancy Grace's new show on HLN, "Nancy Grace: America's Missing," is dedicated to finding 50 people in 50 days. As part of the effort, which relies heavily on audience participation, CNN.com's news blog This Just In will feature the stories of the missing.
This is the 15th case, and it aired Friday at 9 p.m. on HLN.
Kyron Horman was 7 when he disappeared on June 4 in Portland, Oregon. His stepmother says she last saw him that day at his elementary school, walking down a hallway toward his classroom.
Kyron never made it to that classroom, though a photo places him at a science fair at the school earlier in the day. Law enforcement personnel have not named any suspects or people of interest.
Watch Nancy Grace Monday through Sunday starting at 8 p.m. ET on HLN. For the latest from Nancy Grace click here.