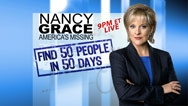 Editor's note: Nancy Grace's new show on HLN, "Nancy Grace: America's Missing," is dedicated to finding 50 people in 50 days. As part of the effort, which relies heavily on audience participation, CNN.com's news blog This Just In will feature the stories of the missing.
This is the 16th case, and it aired Monday night on HLN.
Friends and relatives of Margaret Haddican-McEnroe thought she might have just been blowing off steam when she vanished from her Warren Township, New Jersey, home a day after an argument with her husband in October 2006. She actually had left her home on the day of the argument - October 9, 2006 - to cool off at her parents' house before returning that night.
Her husband says that his wife - then a 29-year-old volunteer firefighter, Army veteran and mother of three - was at home when he left for an errand on October 10, and she was gone when he returned. He said she left behind her cell phone, SUV and their 5-month-old daughter, who was alone in a crib. About $11,000 was missing from the home, he said.
The husband didn't call police until two days later. When asked why, he said that they'd had an argument and that she had a history of walking out, disappearing for a few days, and then returning when she'd calmed down, CNN's Rupa Mikkilineni reported in 2008.
Watch Nancy Grace Monday through Sunday starting at 8 p.m. ET on HLN. For the latest from Nancy Grace click here.