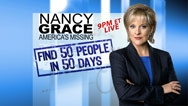 Editor's note: Nancy Grace's new show on HLN, "Nancy Grace: America's Missing," is dedicated to finding 50 people in 50 days. As part of the effort, which relies heavily on audience participation, CNN.com's news blog This Just In will feature the stories of the missing.
This is the 17th case, and it airs Tuesday at 9 p.m. ET on HLN.
Just four months before she was to end her military duty, Nonnie Dotson disappeared while visiting relatives in Littleton, Colorado, in November 2006.
Dotson, then a single 33-year-old mother, was an intensive-care nurse at Lackland Air Force Base in San Antonio, Texas. She was on a pre-Thanksgiving holiday when she disappeared.
She was supposed to meet friends at a smoothie shop about a half-mile from her brother's home. She left the home on the afternoon of November 19, but she didn't appear at the smoothie shop. When her 16-month-old daughter woke up crying the next morning, her family realized that Dotson hadn't returned.
Police said there was no activity on her bank accounts, credit cards or cell phone. No suspects have been named.
Watch Nancy Grace Monday through Sunday starting at 8 p.m. ET on HLN. For the latest from Nancy Grace click here.