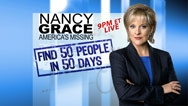 Editor's note: Nancy Grace's new show on HLN, "Nancy Grace: America's Missing," is dedicated to finding 50 people in 50 days. As part of the effort, which relies heavily on audience participation, CNN.com's news blog This Just In will feature the stories of the missing.
This is the 18th case, and it aired on Wednesday at 9 p.m. ET on HLN.
The Skelton brothers left their mother's home in Morenci, Michigan, on Thanksgiving Day for a custodial visit with their father and never returned.
Alexander, 7, Andrew, 9 and 5-year-old Tanner, are still missing, and police say the case has turned into a homicide investigation.
Their father, John Skelton, allegedly first told police he left the three boys with a woman, whom he identified as Joann Taylor, the morning before he tried to take his own life - in part to ensure that they did not witness his suicide attempt, police said. Skelton said Taylor was supposed to return the boys to their mother at their home in Morenci, a southern Michigan town of about 2,400 people about 40 miles west-northwest of Toledo, Ohio, on November 26, Weeks said. But the boys never arrived, and authorities said earlier they aren't certain she even exists.
John Skelton, now charged with 3 counts of parental kidnapping, says he would never hurt his children. His latest story is that he gave the boys to a group called United Foster Outreach and Underground Sanctuaries, but no such group was found to exist.
Watch Nancy Grace Monday through Sunday starting at 8 p.m. ET on HLN. For the latest from Nancy Grace click here.