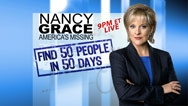 Editor's note: Nancy Grace's new show on HLN, "Nancy Grace: America's Missing," is dedicated to finding 50 people in 50 days. As part of the effort, which relies heavily on audience participation, CNN.com's news blog This Just In will feature the stories of the missing.
This is the 19th case, and it aired Thursday night on HLN.
In June 1998, Scott Kleeschulte had just finished his last day of school in St. Charles, Missouri. The 9-year-old's family had plans for a dinner celebration. After getting off the bus, Scott headed home change clothes and planned to go to a friend's house to play.
Scott never showed up. A storm came through that afternoon. Scott was afraid of storms so his parents first thought he was at his friend's. It wasn't long before they realized the child had disappeared.
Watch Nancy Grace Monday through Sunday starting at 8 p.m. ET on HLN. For the latest from Nancy Grace click here.