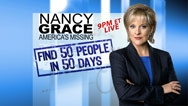 Editor's note: Nancy Grace's new show on HLN, "Nancy Grace: America's Missing," is dedicated to finding 50 people in 50 days. As part of the effort, which relies heavily on audience participation, CNN.com's news blog This Just In will feature the stories of the missing.
This is the 20th case, and it airs Friday at 9 p.m. ET on HLN.
What began as a family night at the bowling alley turned into an evening that the relatives of Teekah Lewis will never forget.
The family took up two lanes in New Frontier Bowling Lanes in Tacoma, Washington, on a busy Saturday night in January 1999. Relatives of 2-year-old Teekah took turns watching her while she played arcade games. An uncle turned away to watch another relative bowl, and when he turned his attention back to where Teekah was sitting, she was gone.
The bowling alley made an announcement over the loudspeaker but it was too late. Police have only one clue - a witness said they saw a 1980s Pontiac Grand Am pull out of the parking lot around the time that Teekah disappeared. The vehicle was maroon with dark windows and a large spoiler.
When she disappeared, Teekah was wearing a green Tweety Bird T-shirt, white sweatpants and Air Jordan sneakers. She was carrying a clear fish-printed purse stuffed with Starburst candy. She would be 13 years old today.
Watch Nancy Grace Monday through Sunday starting at 8 p.m. ET on HLN. For the latest from Nancy Grace click here.