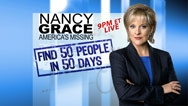 Editor's note: Nancy Grace's new show on HLN, "Nancy Grace: America's Missing," is dedicated to finding 50 people in 50 days. As part of the effort, which relies heavily on audience participation, CNN.com's news blog This Just In will feature the stories of the missing.
This is the 21st case, and it will air at 9 p.m. ET Monday on HLN.
Police say they have reason to believe that Stephanie Low was taken against her will four months ago.
Low, 22, of Wausau, Wisconsin, was reported missing after friends went to her apartment October 10 and didn't find her. Low's two dogs were inside but were without food and water.
Police haven't discussed the evidence that they say points to an abduction.
Low's family has searched local rivers and parks, and the state crime lab has analyzed evidence taken from her apartment. But investigators are running out of leads, and her parents recently appealed to the public for help, offering a $3,000 reward for information that leads to her whereabouts.
Watch Nancy Grace Monday through Sunday starting at 8 p.m. ET on HLN. For the latest from Nancy Grace click here.