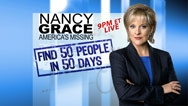 Editor's note: Nancy Grace's new show on HLN, "Nancy Grace: America's Missing," is dedicated to finding 50 people in 50 days. As part of the effort, which relies heavily on audience participation, CNN.com's news blog This Just In will feature the stories of the missing.
This is the 22nd case, and it will be shown at 9 p.m. ET Tuesday on HLN.
Lori Ann Boffman was last seen on the evening of August 5, 2006, when she is believed to have gone out for a drive in Liberty Township, Ohio.
Her vehicle was found the next day in a nearby town, abandoned and wrecked. She didn't have a cell phone, and her purse and identification were left at home. Police say they don't know whether Boffman - then 45 years old - or someone else was driving the vehicle.
Watch Nancy Grace Monday through Sunday starting at 8 p.m. ET on HLN. For the latest from Nancy Grace click here.